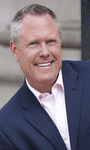 Richard Cash, Ed.D.,
International Consultant,
Author and Educator
Day one topics: Redefining differentiation for today's classroom, rediscovering the essentials of a differentiated curriculum, advancing differentiation to new levels through a rigorous curriculum, motivating and engaging learners, developing student self-regulation and building success through autonomy.
Day two topics: Identifying practical strategies for implementing effective high-level thinking skills in your differentiated classroom. Learn to articulate and define the concept of thinking and offer ways to integrate thinking skills into any curricular area, topic, or grade level through the creation of "the thinking classroom."
Workshop fee: $75 (includes coffee, lunch and materials)
CDE recertification credit available (1.0)

Author:
CASH RICHARD M
Publisher:
NACSCORP INC. PRETICKETED TR
Binding:
Trade Paper
ISBN-13:
9781575423579
Recommended:
Participants will benefit from reading Dr. Cash's book, Advancing Differentiation: Thinking and Learning for the 21st Century (with CD)
prior to the event.
The book is available for purchase through the Regis bookstore and copies will be available for purchase at the workshop. Participants are also encouraged to bring the book, a laptop, and a basic unit of study for interaction with the speaker.